Homg. I don't even know where to start with this. Anthrocon was an effin' blast!



Day one: Late Wednesday/Thursday

I stayed up all night finishing my partial costume until 730 in the morning, took a two-hour nap, and then we were off! My party included myself, my husband, my brother and a good friend of ours. We drove 3 1/2 hours from Ft Meade Maryland to good ol' Pittsburgh. All of us except my brother had pre-registered. There was a small fuss about the length of the registration line from my brother, but he was warned in advance that there would be a line, he just didn't remember that part. >:3

I waited with him like the good little sister I was. I was able to see the donkey piñata suit and got a glimpse of Ganador (so freaking adorable). At first I was actually a little afraid to put on what I thought was a sub-par suit, but after seeing so many suits walking around with all levels of craftsmanship, I began to feel more confident.

After registering we just wandered around, trying to get a feel for the place. As we were walking out of the elevator from the convention center back to the Westin, I spotted Jappodawg just turning the corner at the far end of the hall. Jappo just happened to be one of the suiters I wished to meet, so I screamed "IT'S JAPPO!" at the top of my lungs, but I thought he didn't hear me. Apparently he had better hearing than I thought, for a moment later he comes bolting back around the corner, so I run toward him as well screaming my little fangirly lungs out! I slow down so I don't bowl him over, but as I hug him he snatches me up and spins me around in circles! The both of us are panting and dizzy by the time we stop, and we stagger around for a minute before we pose for a picture. Jappo = Awesome! I hope to see you again next year! <3

Day two: Friday

The real fun begins! The night before I did a quick sew-job to attach some elastic I had bought the day before to the wings so they wouldn't slip off, trimmed the neck, and started my first ever suiting experience. My awesome brother was my handler, fixing my neck because it kept slipping out from my shirt in the back. We eventually used one of those free buttons to keep it down.

It was like stepping into a whole 'nother world, I'll tell you what. I never had any past experience suiting or acting in suit, but I fell into character as if it were second nature. Everyone took so well to my costume, you can't imagine how great it felt to hear 'What an awesome bird!' and 'You don't see too many avians running around!' To even "You had to be one of the most in-character suiters at this con!" It was sweet, sweet candy-coated crack. There were even a few people that knew what kind of bird I was. "OMG Can I take a picture? My mom's absolute favorite animals are shoebills!"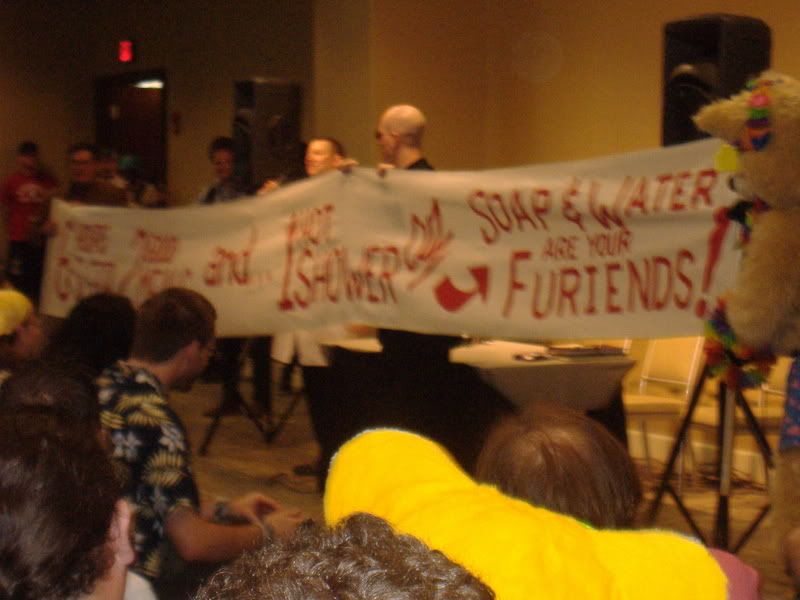 Of course for my brother and I, "So this is your first furry con?" was our first stop. We got there kind of late, but just enough to see the rules of conventions (though, as always, not everyone followed them).

The freak rainstorm was indeed freak. We had just finished eating at a recommended restaurant called Sushi Kim's (great place!) and it started to pour on us as we were walking back. Lightning is fun to watch from the balcony of the convention center~

That night I danced in suit for a bit until I got tired. I'm not much of a dancer. :/

More wandering pictures! I can tell which day it was by the shirt I wore. Brown shirt = Friday.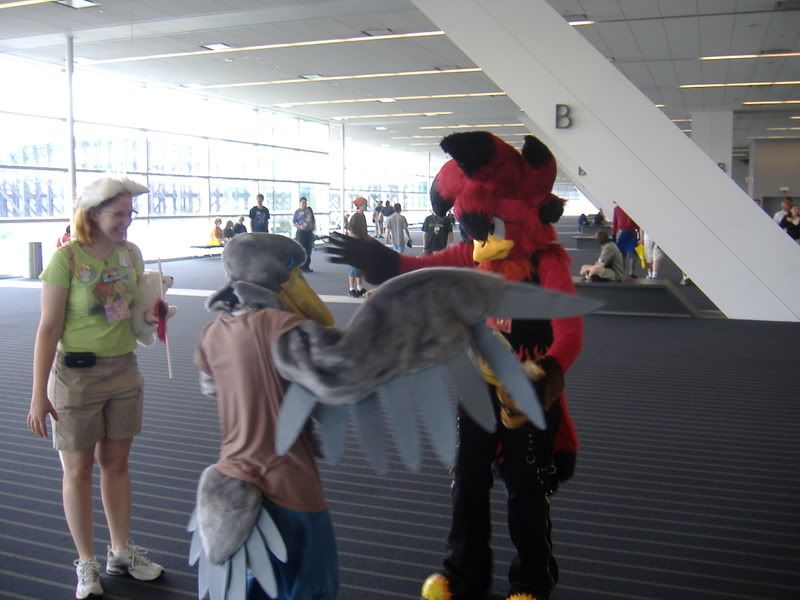 Pretty birds!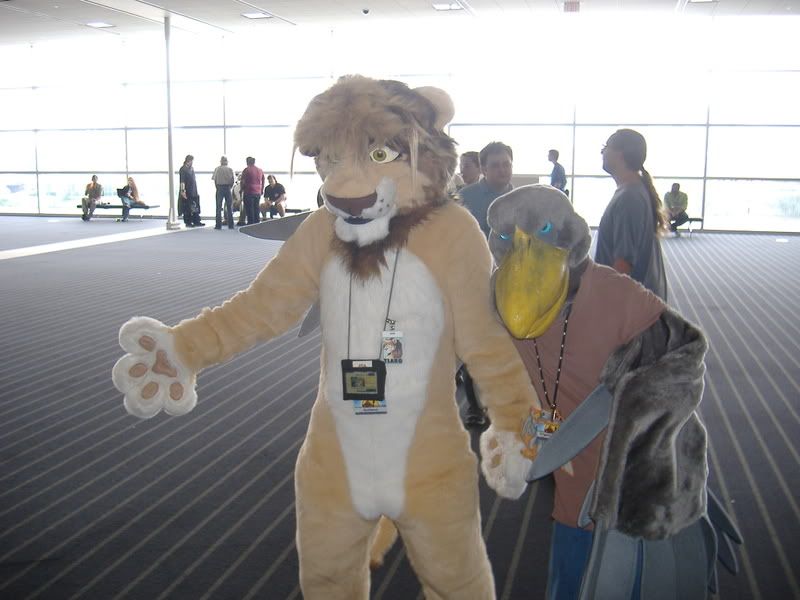 JESUS CHRIST IT'S A LION! Hug him silly!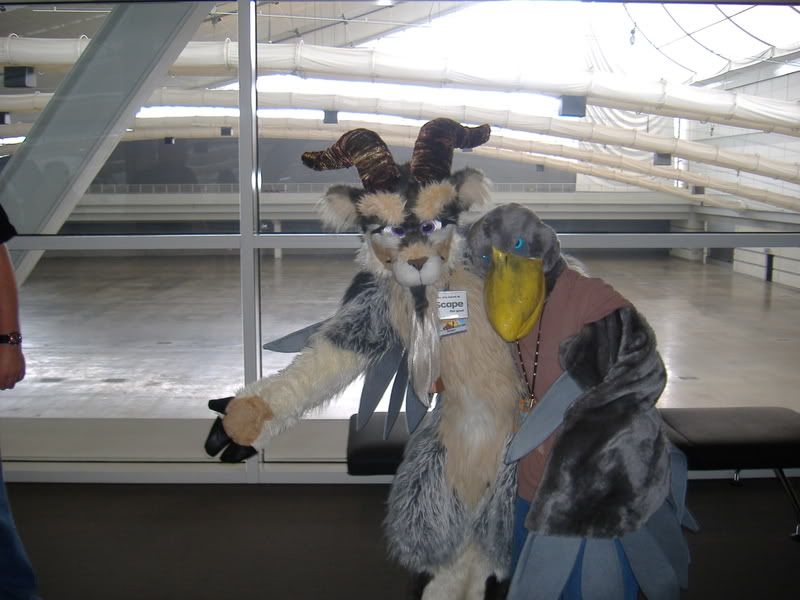 I heart Scape. <3 I only wish I could have seen his bagpipe performance.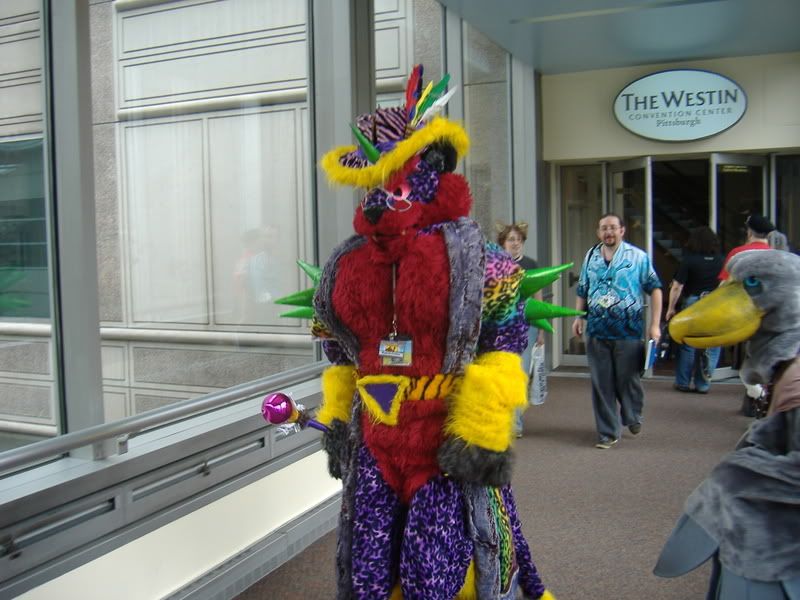 One of those "wtf?" moments. X3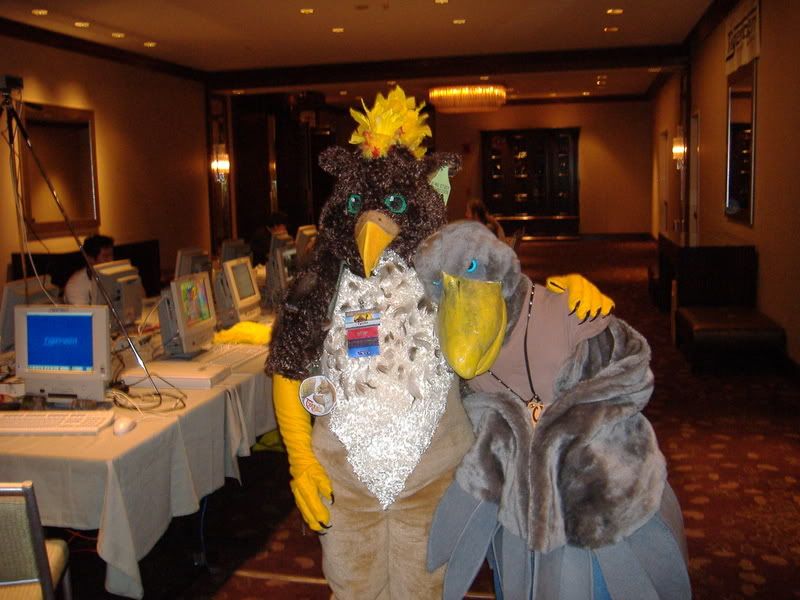 OMG Tyrrlin! <3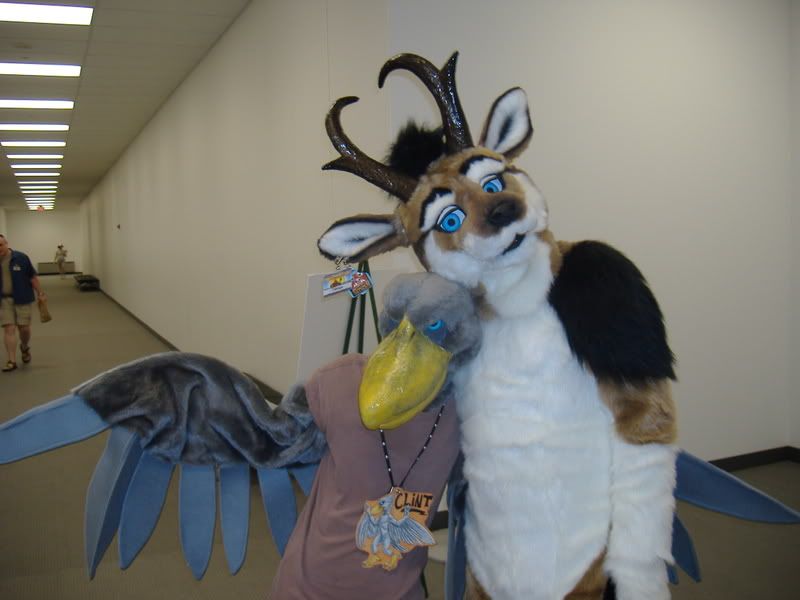 Pronghorns = love.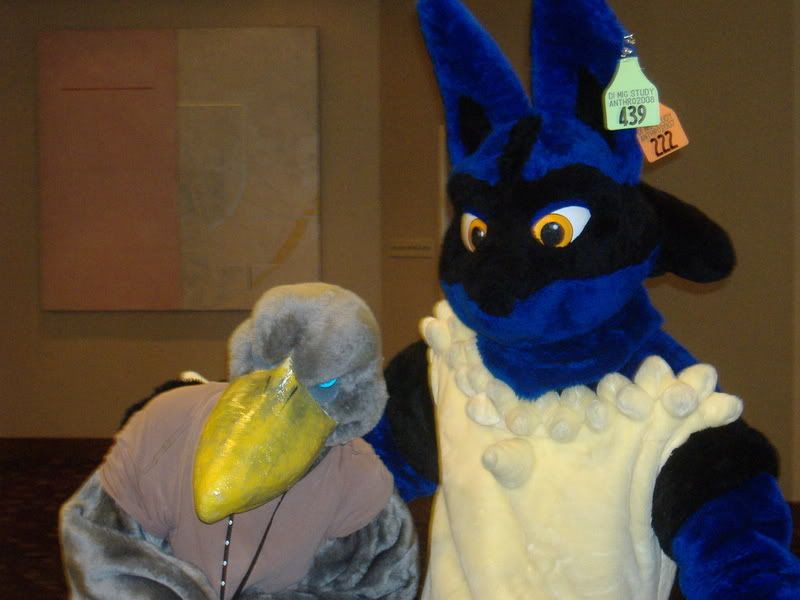 Rukarioh is extremely sweet. <3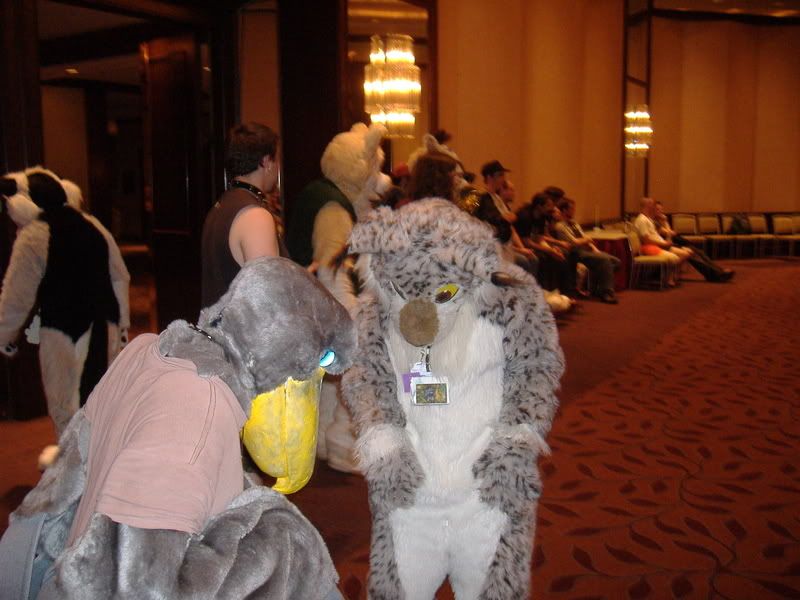 kitty meets bird...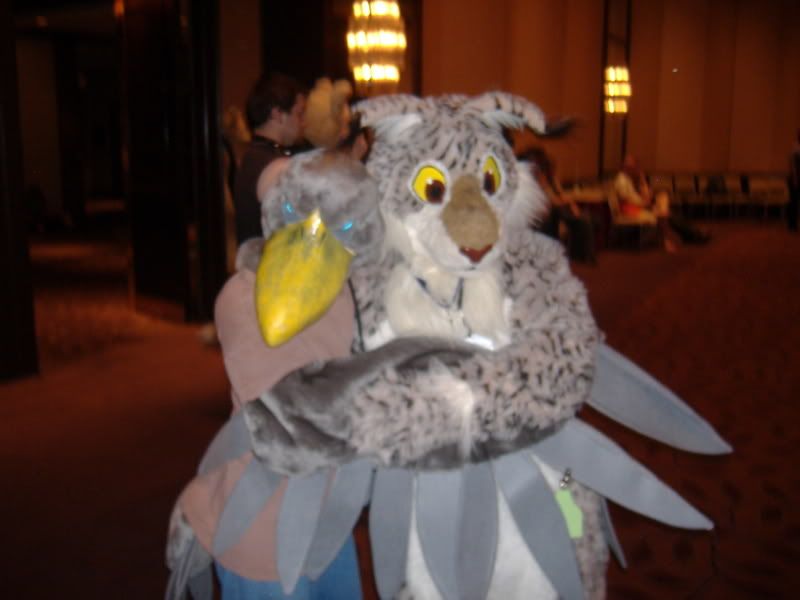 kitty hugs bird!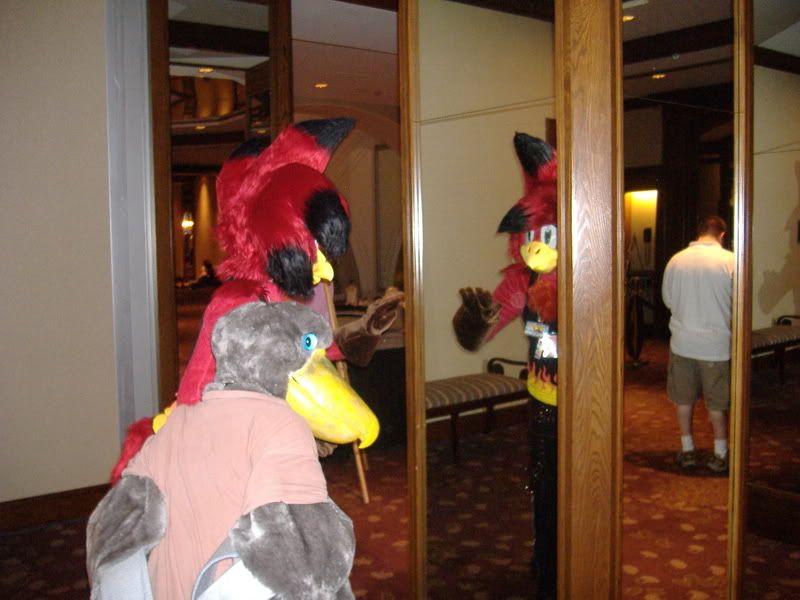 Who are those pretty birds in the mirror?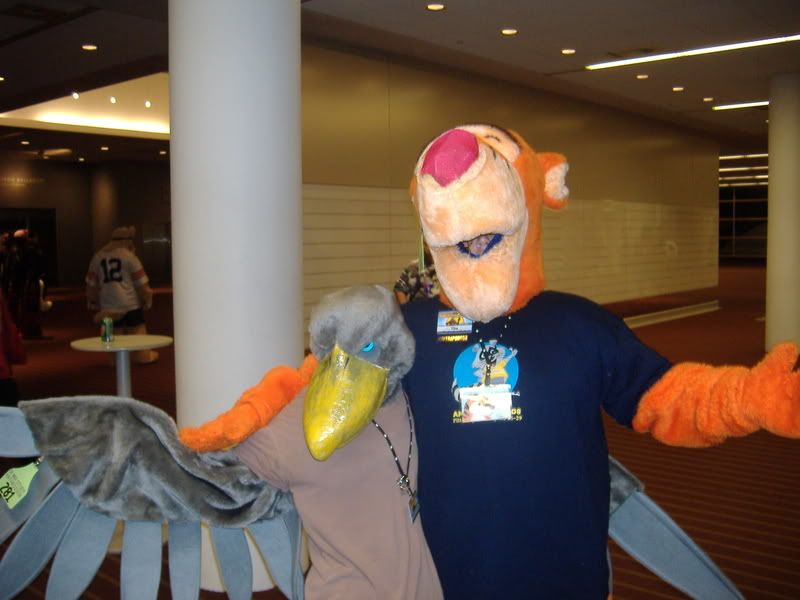 Clint and not-Tigger. :D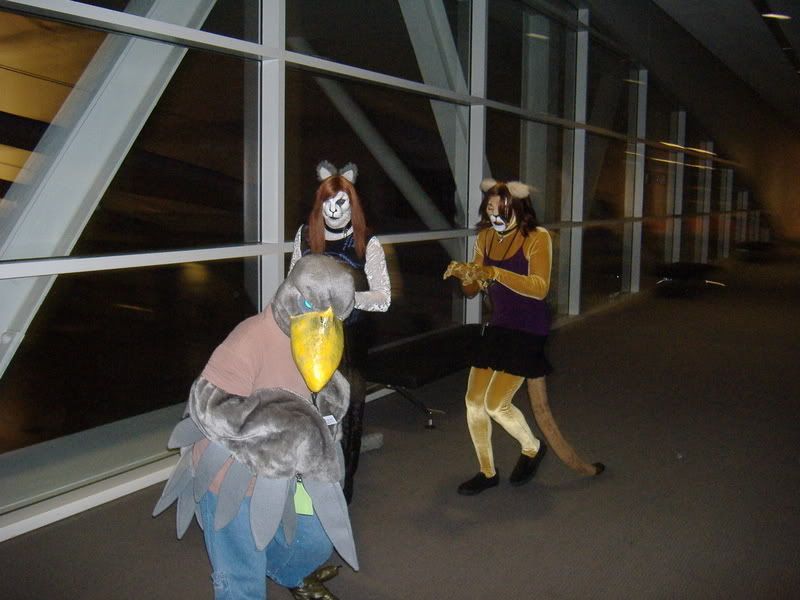 Cats! Run away, run away!




Birds seem to get along with the big-busted pink kitties, though..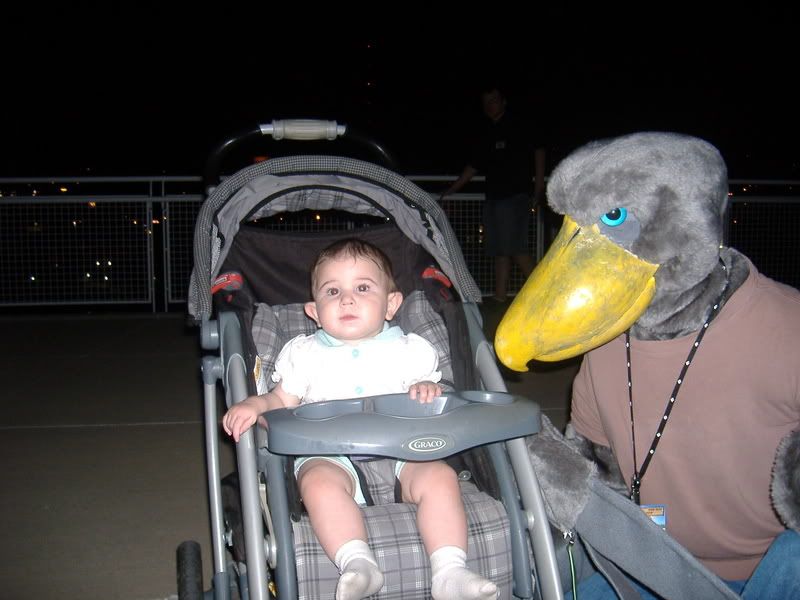 Baby!




Group shot~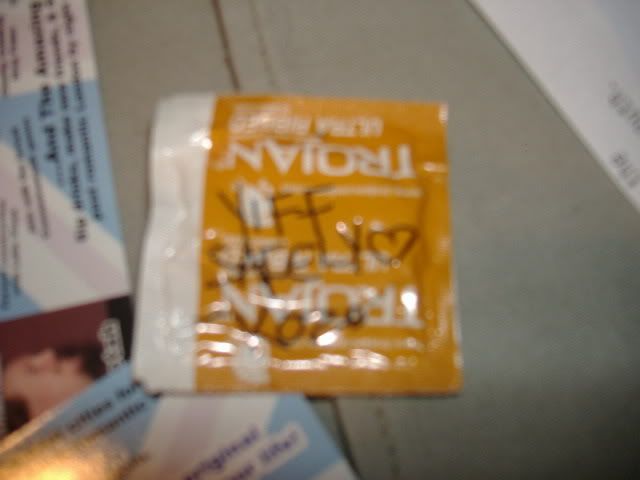 Speaks for itself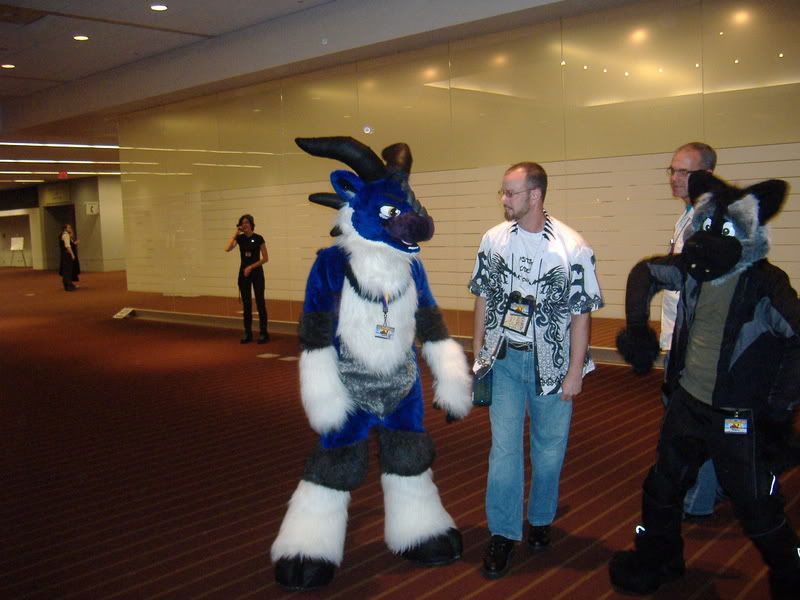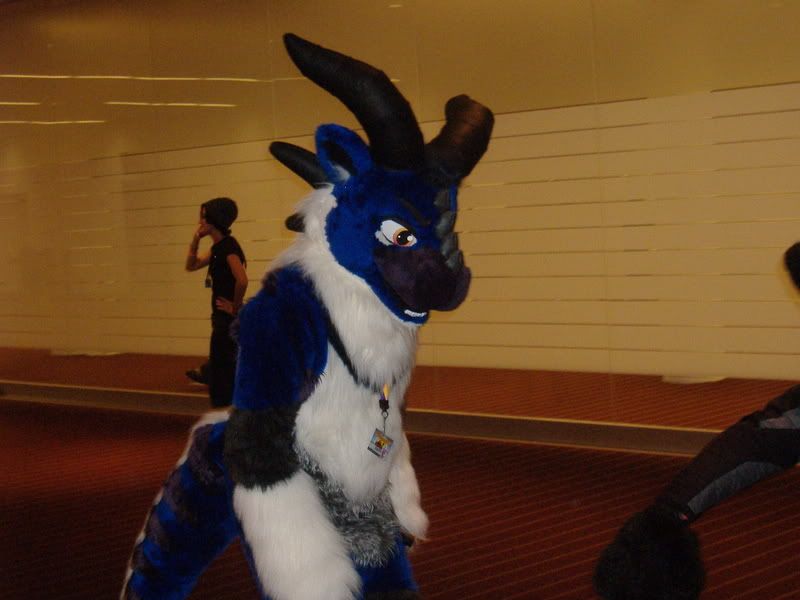 I fell in love with this dragon at first sight. He has such an amazing design, and beautiful colors! I had no idea who had made him until someone pointed their website out to me. <333




Puppy meets bird..




Puppy hugs bird~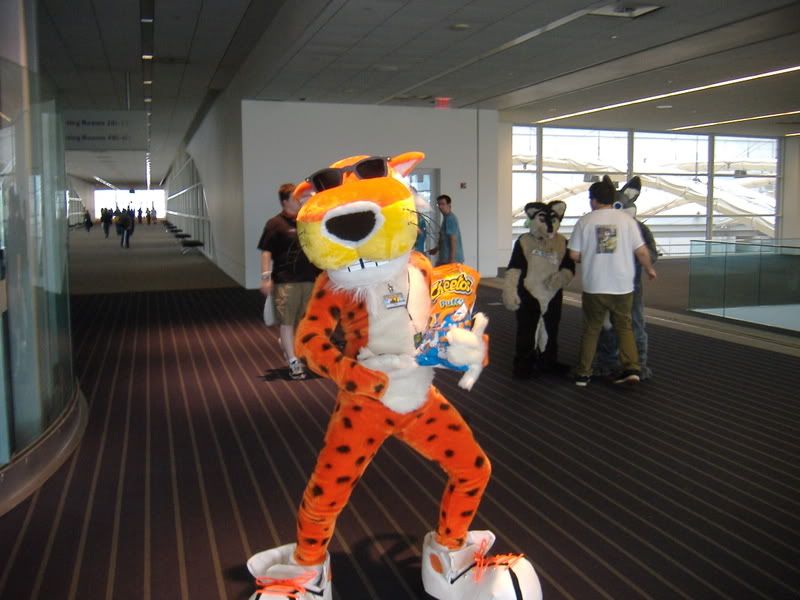 Dangerously cheesy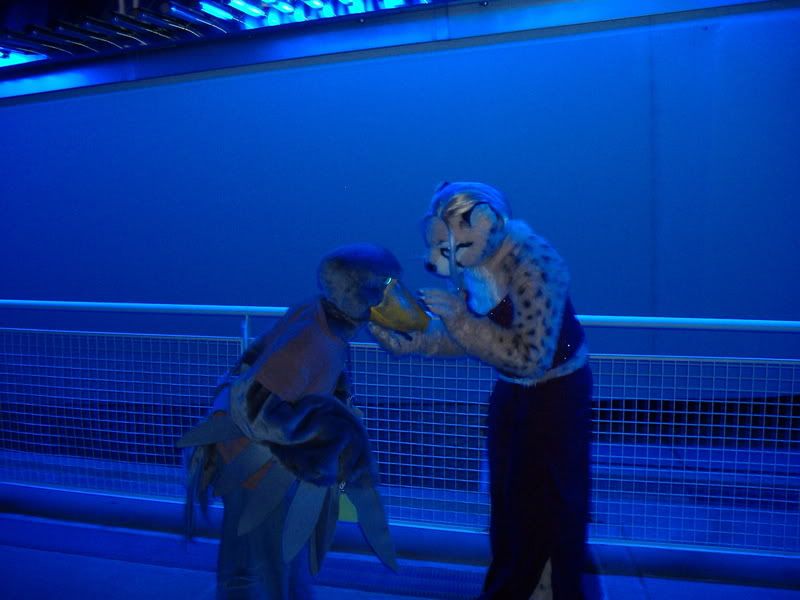 Awww.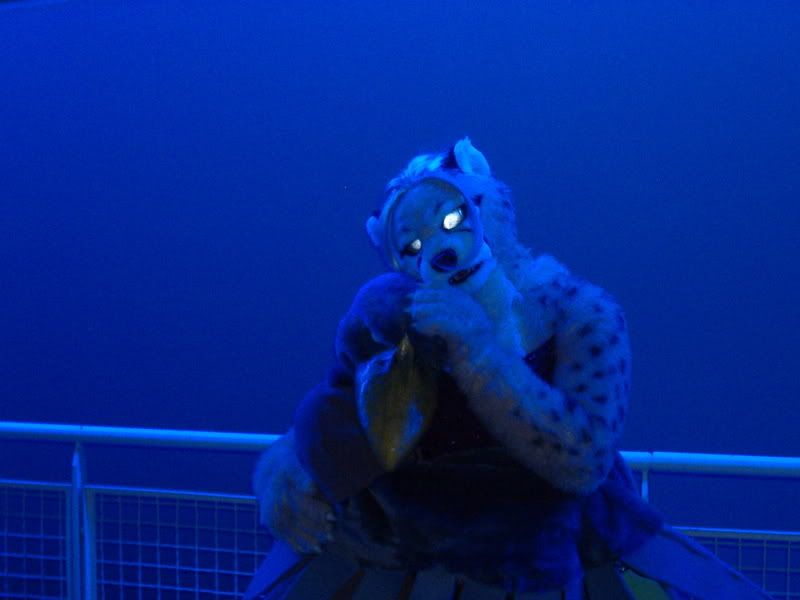 A dangerous pair~ I love how the blue lights make the eyes glow!

Day three: Saturday

The big one! So much happened today.

Starting out by waking up very early so I could eat with the military furs and grey muzzles. Though they wanted it to be an altogether thing, they ended up eating separately anyway. my brother came along because he is a big supporter of the military, though he himself can't join it due to his arm.

There was a guy I was sitting across that had badge commissions for $5. I forget his name, but dude, if you're reading this, I'm sorry I couldn't find you after that! If you still want to do my commission, just let me know! :D
there was also someone that made these AWESOME chain mail scale tails (Try saying that three times fast). He gave my brother and I a free scale. :3

After the breakfast (10 dollar waffles, sheesh) I took the leftovers back to the hotel for my husband and our friend (who were still sleeping, lazy bums) and I got back into suit despite having blisters on the backs of my feet from not wearing thicker socks. ;_; I wore two pairs and band-aids, but I kept going!

The parade was OMG huge, but I happened to be at the very head of the line, at fourth. Kiyo the drunken parrot tried to get all the birds together, but some still wandered into other lines. Breakspire, random green parrot, red robin lady and any other bird I missed, I'm sorry we couldn't get your attention! T_T

When we got to the top of the building, I was already very hot. But I was only wearing a partial; I'd hate to feell how all the full suiters felt! We hung around until the photo was taken (I'm guessing from the big boat that stoppped in front of us), then we all fusterclucked back downstairs. I ended up in front of a big werewolf after that, and I would turn around and act afraid every so often. X3

Somewhere in this time frame, I had to go visit the headless lounge, but I had misplaced my brother because we wanted to go to two different panels. I asked a girl to take off my head for me, but she accidentally ripped off Clint's jaw halfway. The poor girl was so sorry, and offered to take me back to her room in the Westin to use some Fabri-tac. Ganador just happened to be with them! I had been able to interact with Ganador earlier that day in suit, and he kept making these adorable kissing noises. I thought he was just being friendly, but he told me that my suit was 'absolutely adorable.' I go, "Who's calling adorable adorable, adorable?!" So much for trying to make Clint un-cute, but hey, people have their own ideas of cute. XD

So with my new friends Kivva, who has an awesome spandex-bat suit and Ganador, I traveled headless with them up to her room to repair Clint's jaw. We exchange contact info, hung out for a minute before I called hubby with Gannie's phone to try to find my brother.

At this point, it's lunchtime, so we went out to another recommended restaurant, a chinese buffet. But soon after we came back to the Westin we realized that the Clint badge that I had commissioned from the lovely Iveechan was gone! I called Kivva to see if I left it in her room, and asked her and Gannie to keep an eye out for it.

Sometime later during another visit to the lounge, a somewhat out of breath Frysco comes up to me, and what does he have but my badge! I thank him profusely and ask him where he found it. His answer? "In the street."
o.O Omg I would have died if someone else had found it, or worse, it got blown away and ruined! T_T Thank you so much again, Frysco! It was great to meet you!

After that I got out of suit to attend 2 the Ranting Gryphon's show. Jibba as the opening act was awesome; he was just so awesomely gay! XD But 2's show was great; I loved how he paid homage to George Carlin and put on Nevermint's bunny suit! I have a prediction that 2 will singlehandedly quadruple the number of bunny suits, never mind KILLER bunny suits. X3

We also attended the improv show, though the best part had to be the marshmallow part. I was able to nab one of the marshmallows. I couldn't eat it though, it had rolled across the floor. X3 After the improv, I knew 2 would be tired, but I talked to him long enough to say "As a fellow gryphon, I appreciate your work." After he thanks me, he goes, "Fellow gryphon? Bok!" and we bok back and forth a couple of times before he wanders off. X3

Saturday was black FC '06 shirt. I didn't suit that much today; just for the parade. I felt kinda bad that I wasn't able to take a picture with Jager; he only came out for the parade. ;_;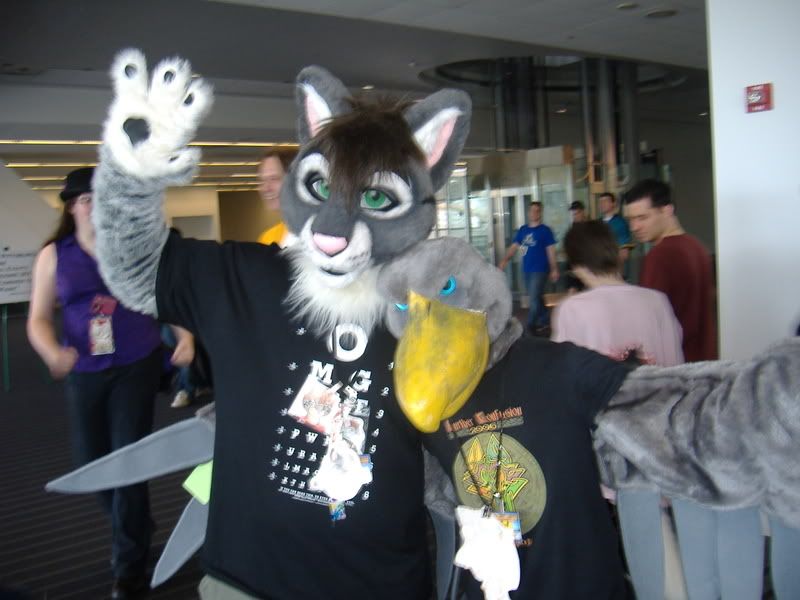 Cat and boid~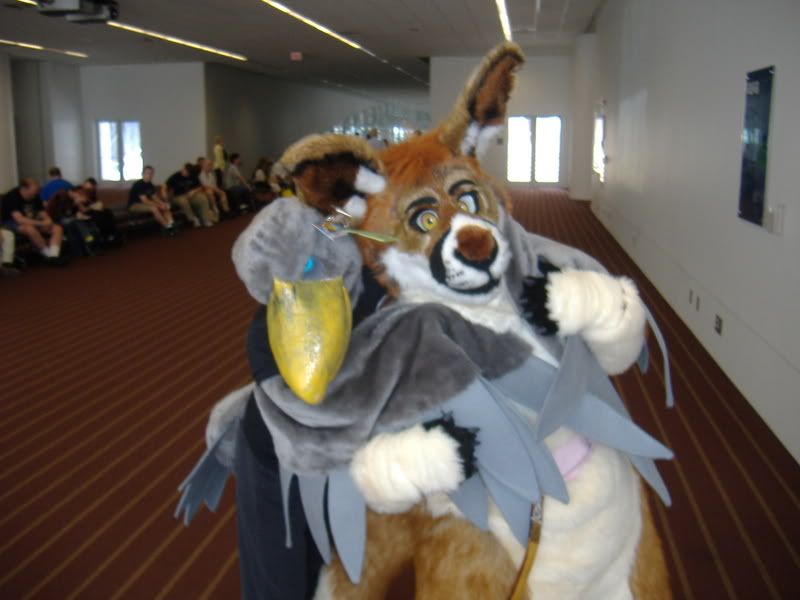 Bird and Roo!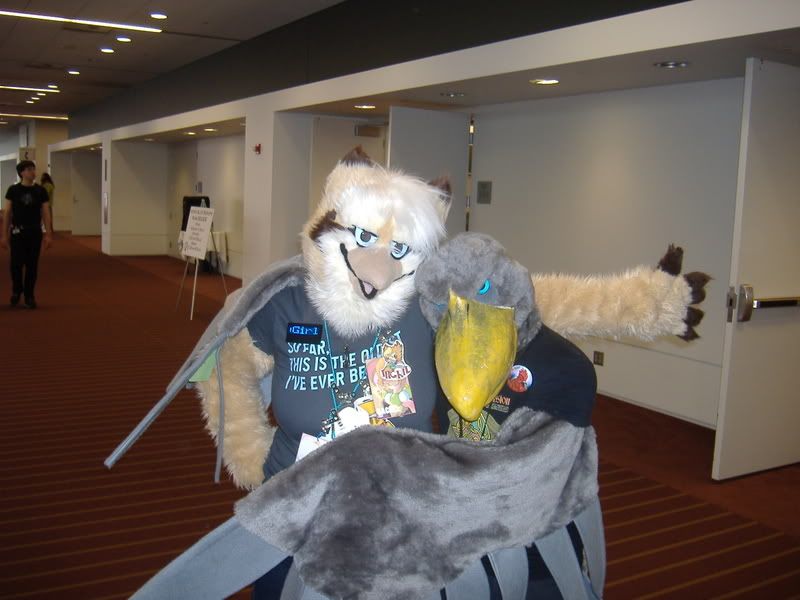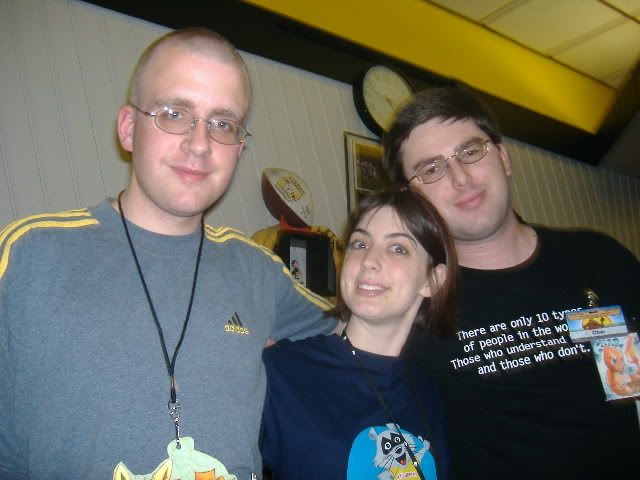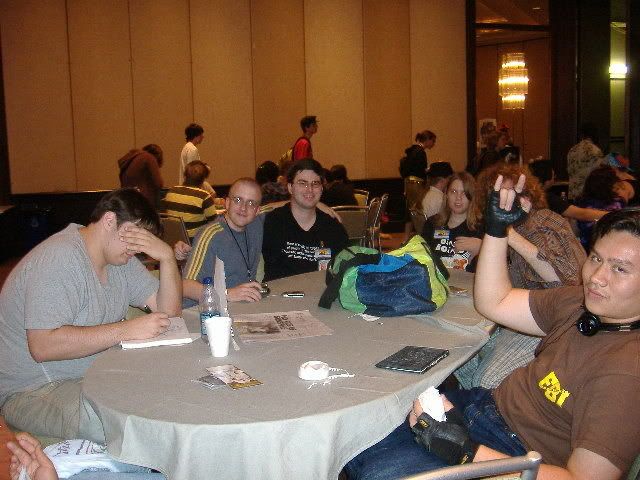 Fellow AGNPHers! :D

Day four: Sunday.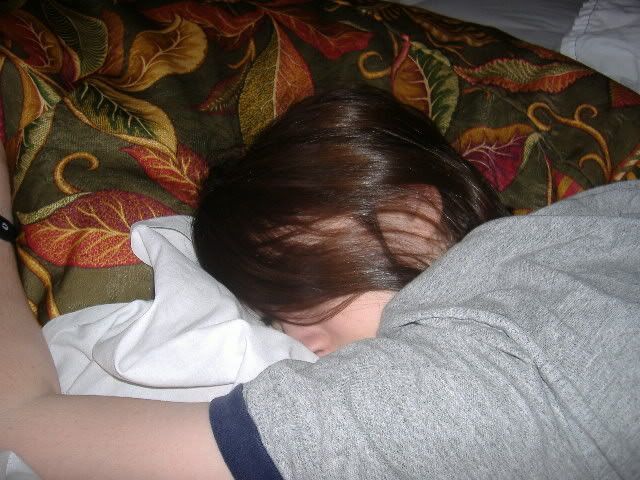 Blargh..do I have to get up?

Yes I did, because I wanted to suit on this last precious day!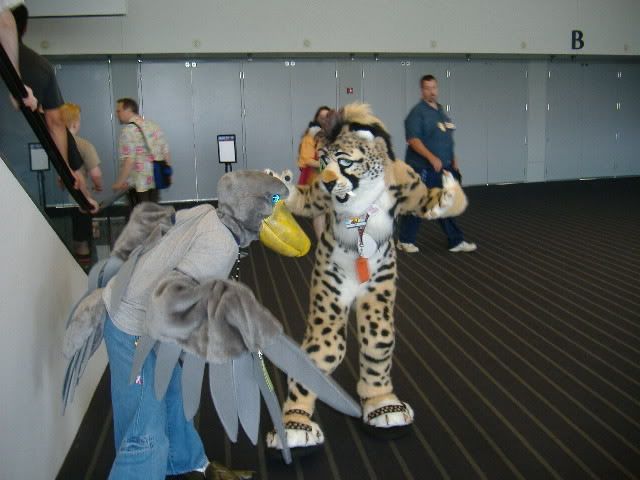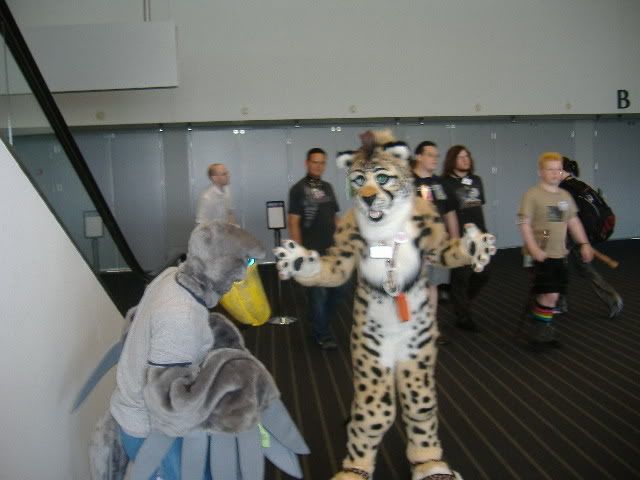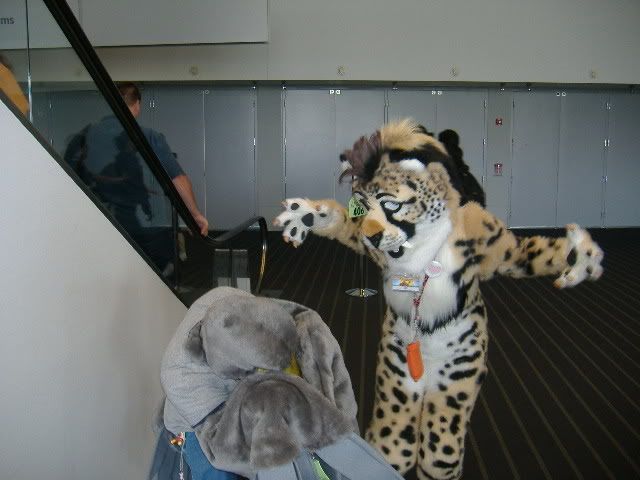 Nooo, kitty no eat bird!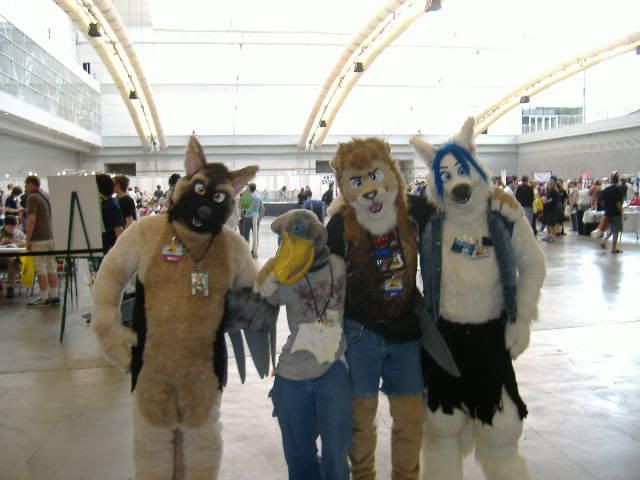 Dealer's den/Artists Alley group shot!

I went to every single table to interact with the artists; I loved seeing them smile as they looked up from their work to see me standing there, making birdy cooing noises at the pretties. X3 A couple of them were so nice, and gave me free things; a chicken button and a gryphon sticker. :D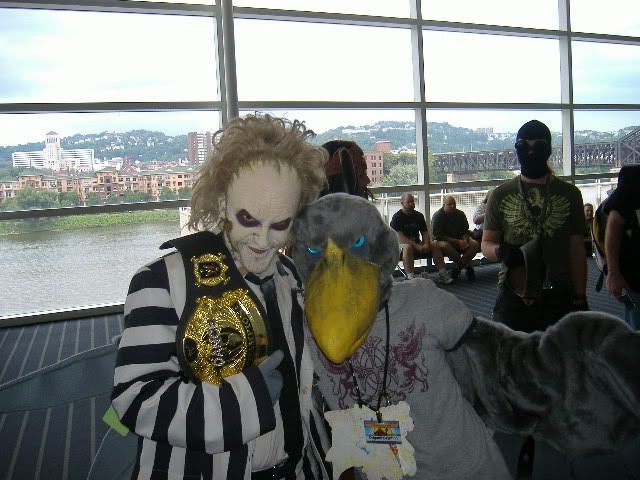 Beetlejuice Beetlejuice BEETLEJUICE!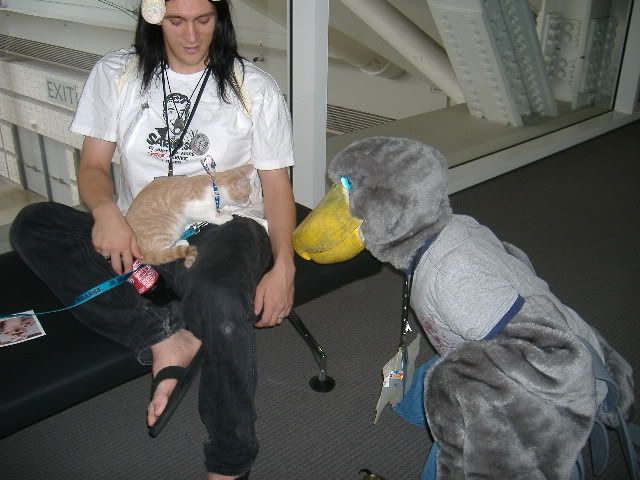 Kitty~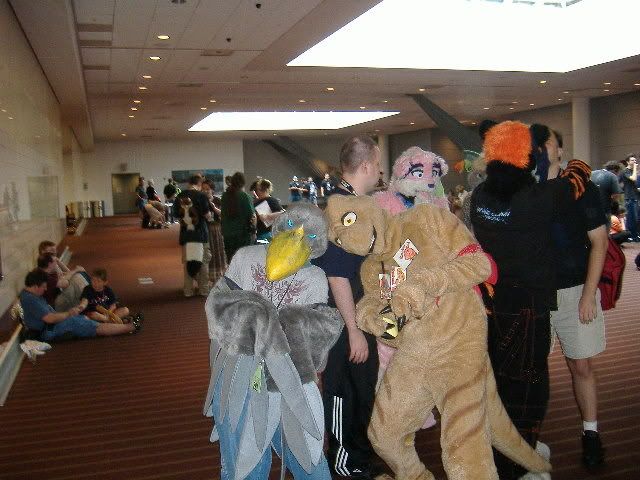 *bonk*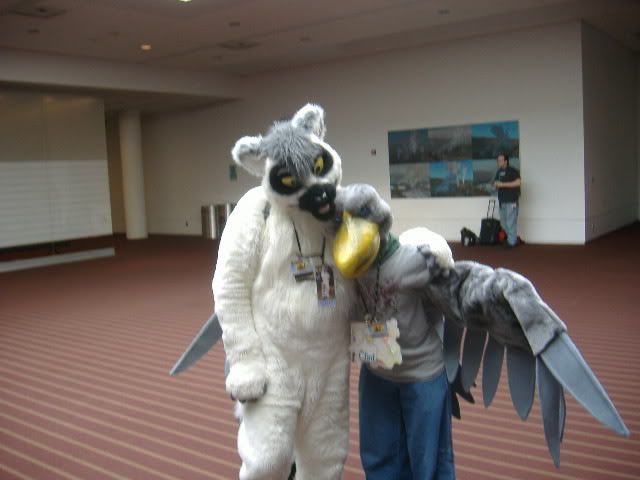 Lemur~




It's Kivva and her awesome bat suit that I forgot the name of! XD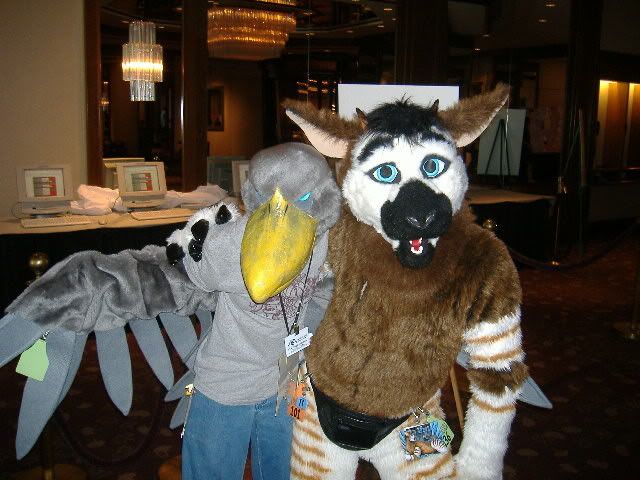 Okapis make the cutest little sounds. XD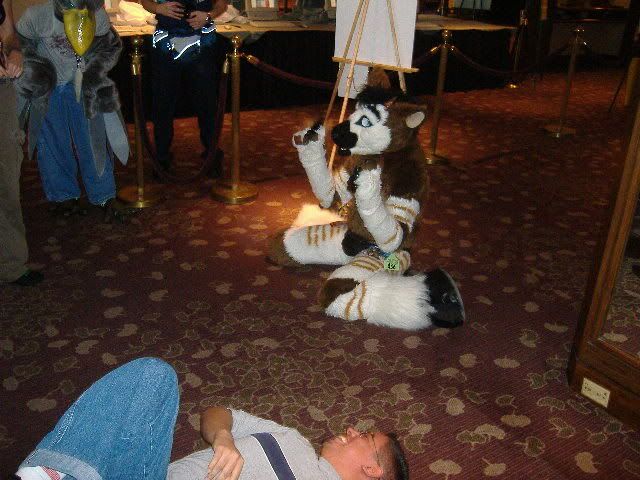 And you can't beat them in flexibility!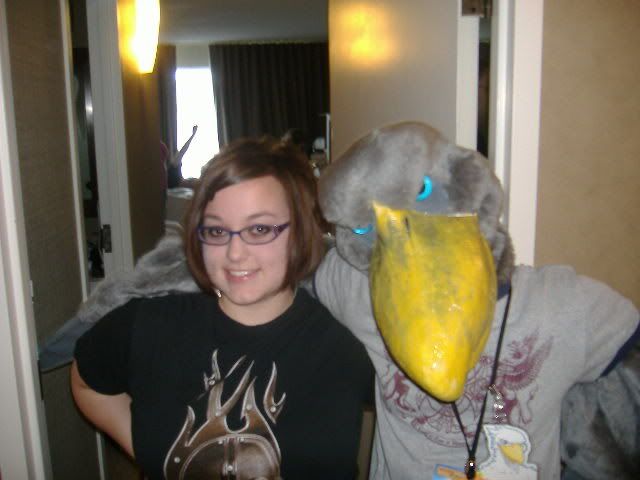 Krowy~! :D




Caspian! <33 I met him in my first visit to the headless lounge, and he's a great guy. He helped me into my suit at one point when I had lost my brother. X3 See you again next year!

And finally, the best picture ever!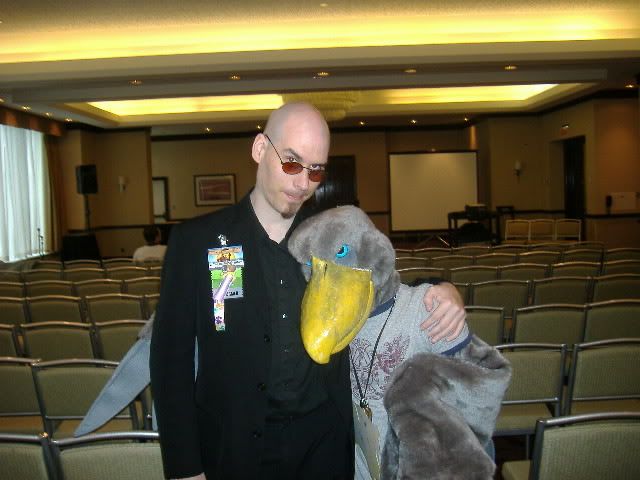 It's Twoooooo~! My brother and I caught him going into a staff meeting before it started. I reminded him who I was from the other night at the improv, and he says, 'of course, I remember all of my fellow avians!'
Also, from earlier that day, I unknowingly got into an elevator with him. When I noticed who was there, I squawked, and he commented on "The cute tiny bird," and gave me scritches. <333

That night we went out to Fernando's to support the man that took a brick to the head for us. I was floored, because when I walked in, still in suit, the employees dropped whatever they were doing to take pictures with me. XD

After we ate, I put my costume back on and walked out. Just as I did there was a family with a daughter and a young mentally challenged son in a wheelchair about to pass. Without skipping a beat I knelt in front of him and started to make my birdy cooing noises. That boy a gave me the widest, open-mouthed smile I had ever seen, and it completely melted my heart. <333

Finally, the request! I know I posed for dozens of cameras and hammed it up for quite a few videos (not just the parade!) So if you have them, please post them here or email me at Origamigryphon AT gmail DOT com!

Crossposted to my own journal. :3